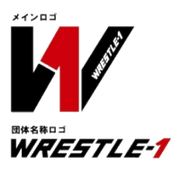 Wrestle-1 (レッスル・ワン Ressuru Wan?) is a Japanese puroresu or professional wrestling promotion, founded in July 2013 by Keiji Mutoh following his resignation from
All Japan Pro Wrestling
(AJPW). The core of the promotion's roster was formed by wrestlers loyal to Mutoh, who left AJPW in a mass exodus during June 2013. Mutoh serves as the president of the promotion and runs it through a kabushiki gaisha named GEN Sports Entertainment. The promotion held its first event on September 8, 2013, at Tokyo Dome City Hall.
The promotion shares its name with a series of professional wrestling events run by All Japan Pro Wrestling, K-1 and Pride Fighting Championships in the first half of the 2000s, but it is not considered a direct continuation of that project.
Championship promoted by Wrestle-1 include
Wrestle-1 Championship
Wrestle-1 Tag Team Championship
Wrestle-1 Cruiser Division Championship
UWA World Trios Championship
F-1 Tag Team Championship
Ad blocker interference detected!
Wikia is a free-to-use site that makes money from advertising. We have a modified experience for viewers using ad blockers

Wikia is not accessible if you've made further modifications. Remove the custom ad blocker rule(s) and the page will load as expected.