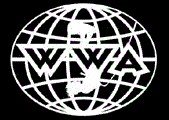 The World Wrestling Association (WWA) is a lucha libre promotion based in the Tijuana-area of Mexico. It was founded in 1986 by Benjamin Mora Jr.. It featured some of Mexico's best luchadores at the time such as
Rey Mysterio Jr.
,
La Parka
and
Juventud Guerrera
during the late 1980s and early 1990s and was also featured on American television via the Fox Sports en Español channel.
Although inactive during the late 1990s, during which time much of its roster had left to compete in World Championship Wrestling and international promotions, the World Wrestling Association resumed operations in 2004.
Championships
WWA World Heavyweight Championship
WWA Light Heavyweight Championship
WWA World Junior Light Heavyweight Championship
WWA World Lightweight Championship
WWA Middleweight Championship
WWA World Welterweight Championship
WWA Tag Team Championship
WWA Trios Championship
WWA World Women's Championship
WWA World Minis Championship
WWA Exotico Championship
Return To
Edit
Ad blocker interference detected!
Wikia is a free-to-use site that makes money from advertising. We have a modified experience for viewers using ad blockers

Wikia is not accessible if you've made further modifications. Remove the custom ad blocker rule(s) and the page will load as expected.