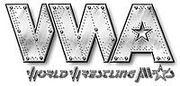 World Wrestling All-Stars (WWA) was a professional wrestling promotion founded by Australian concert promoter Andrew McManus in 2001. The promotion was operated by McManus' International Touring Company. WWA was one of several promotions to come into existence shortly after the closings of
Extreme Championship Wrestling
(ECW) and
World Championship Wrestling
(WCW). The company was in existence from October 2001 to May 2003.
WWA recruited current TNA ring announcer Jeremy Borash as booker and head of talent for its shows. He also acted as ring announcer and commentator for their shows. Borash was recommended to the WWA by Vince Russo, who was not able to work with the company as originally planned. WWA focused on signing the wrestlers that did not get signed by the World Wrestling Federation (WWF) after the WWF-WCW merger. They aimed to fill the gap left by the demise of WCW and ECW and provide an alternative to WWF.
Many popular former WWF and WCW wrestlers wrestled for the company during its nearly two year existence. These included Jeff Jarrett, Road Dogg, Scott Steiner, Sting, Psicosis, Devon Storm, Juventud Guerrera, Rick Steiner, Jerry Lynn, Shane Douglas, Buff Bagwell, Lex Luger, Stevie Ray, Sabu and Disco Inferno.
They also brought in relatively unknown wrestlers, many of whom went on to make names for themselves for other promotions like TNA. These included A.J. Styles, Christopher Daniels, Frankie Kazarian, Shark Boy, and Nathan Jones. Further big names like Kevin Nash, Scott Hall, and Randy Savage were scheduled to appear for WWA at some point but their appearances did not happen. The promotion had three in ring commissioners during its time, namely Bret Hart, Sid Vicious and Mike Sanders.
Championships
Edit
WWA World Heavyweight Championship
Edit
The World Wrestling All-Stars (WWA) World Heavyweight Championship was a world heavyweight championship in World Wrestling All-Stars. It was unified with the National Wrestling Alliance World Heavyweight Championship on May 25, 2003.
WWA International Cruiserweight Championship
Edit
The WWA International Cruiserweight Championship was first won by Juventud Geurrera by defeating Psicosis on October 19, 2001 in Perth, Australia. The title was vacated to be up for grabs on the company's first PPV, The Inception. The title was then won again by Juventud Guerrera. The title was unified with the TNA X Division Championship on May 25, 2003.
WWA Hardcore Championship
Edit
Devon Storm defeated Danny Dominion in a tables match to win the title on October 25, 2001 in Wollongong, Australia. Title was then abandoned.
Ad blocker interference detected!
Wikia is a free-to-use site that makes money from advertising. We have a modified experience for viewers using ad blockers

Wikia is not accessible if you've made further modifications. Remove the custom ad blocker rule(s) and the page will load as expected.