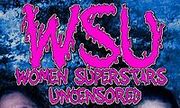 Women Superstars Uncensored (WSU) is an American, New Jersey based female independent professional wrestling promotion which held its first event in 1996. Shows combine wrestling interspersed with both serious and comedic storylines. The company tapes two DVDs worth of material during weekend shows. Although many of the shows are promoted solely by WSU, they have also worked with
National Wrestling Superstars
. As of October 2009, the promotion has a working agreement with
Dragon Gate USA
.
WSU is considered one of the top women's wrestling organizations in the United States. The company claims to be "the leader in women's wrestling in the northeast" and to promote more cards than any other women's wrestling company in the country.
Ad blocker interference detected!
Wikia is a free-to-use site that makes money from advertising. We have a modified experience for viewers using ad blockers

Wikia is not accessible if you've made further modifications. Remove the custom ad blocker rule(s) and the page will load as expected.