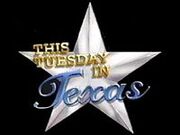 This Tuesday in Texas
was a pay-per-view event produced by the
World Wrestling Federation (WWF)
, which took place on December 3, 1991, at the Freeman Coliseum in San Antonio, Texas.
The event was an attempt by the WWF to establish Tuesday as a secondary pay-per-view night. Lukewarm reaction and a disappointing 1.0 buyrate rendered the experiment a failure, and the company shelved its plans until nearly thirteen years later, when it held WWE Taboo Tuesday 2004.
Ad blocker interference detected!
Wikia is a free-to-use site that makes money from advertising. We have a modified experience for viewers using ad blockers

Wikia is not accessible if you've made further modifications. Remove the custom ad blocker rule(s) and the page will load as expected.