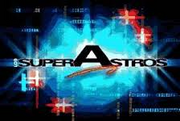 WWF Super Astros
is a program that showed mostly wrestlers of foreign descent wrestle in the WWF that aired from 1998 to 1999 and was mainly used as a vehicle to promote the WWF in Latin American countries. It was hosted by
Carlos Cabrera
and
Hugo Savinovich
, who were the Spanish announce team. Interviews were handled by
Maria Felipe
. The program had a stable of Mexican wrestlers such as
El Hijo del Santo
and
Negro Casas
that competed in
Asistencia Asesoría y Administración
,
Consejo Mundial de Lucha Libre
, or other promotions around the world. Storylines were created within the program only with the Mexican stars. They competed against the stable in cruiserweight style matches and in AAA and CMLL style matches (mostly tag team and six-man tag). The program lasted a year and a half with its final show airing on September 5, 1999.
Ad blocker interference detected!
Wikia is a free-to-use site that makes money from advertising. We have a modified experience for viewers using ad blockers

Wikia is not accessible if you've made further modifications. Remove the custom ad blocker rule(s) and the page will load as expected.