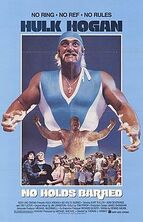 No Holds Barred is a 1989 action film produced by Michael Rachmil, directed by Thomas J. Wright, written by Dennis Hackin and starring professional wrestler
Hulk Hogan
(who is billed as executive producer alongside
Vince McMahon
). The film is produced by the
World Wrestling Federation
under a "Shane Distribution Company" copyright and was released by New Line Cinema on June 2, 1989. It was launched as an attempt to boost Hulk Hogan's acting career several years after his appearance in Rocky III.
No Holds Barred: The Match/The Movie, which is how the event was billed, was shown on pay-per-view, on December 27, 1989. The program consisted of the film in its entirety, followed by a match pre-recorded at a WWF Wrestling Challenge taping on December 12 in Nashville, Tennessee. It is currently one of the few WWE pay-per-views not yet available on the WWE Network.
Ad blocker interference detected!
Wikia is a free-to-use site that makes money from advertising. We have a modified experience for viewers using ad blockers

Wikia is not accessible if you've made further modifications. Remove the custom ad blocker rule(s) and the page will load as expected.