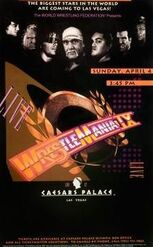 WrestleMania 9 was the ninth annual
WWE WrestleMania
pay-per-view event produced by the
World Wrestling Federation
. The event took place at Caesars Palace in Las Vegas, Nevada on April 4, 1993, and was the first WrestleMania event held outdoors. The buildup to the pay-per-view consisted of feuds scripted by the WWF's writers, and the matches that took place at the event had pre-determined outcomes that had been decided by the promotion.
Several reviewers have been critical of the event. The most frequent criticism has been related to the match between The Undertaker and Giant Gonzalez, Hulk Hogan's title win, and the Roman togas worn by announcers. Both the pay-per-view buyrate and the attendance for the event dropped from the previous year's WrestleMania.
Ad blocker interference detected!
Wikia is a free-to-use site that makes money from advertising. We have a modified experience for viewers using ad blockers

Wikia is not accessible if you've made further modifications. Remove the custom ad blocker rule(s) and the page will load as expected.