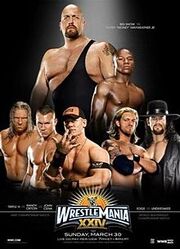 WrestleMania XXIV was the twenty-fourth annual WrestleMania pay-per-view event produced by
World Wrestling Entertainment
(WWE), it was also the first WrestleMania event to be broadcast in HD. The event took place on March 30, 2008, at the Citrus Bowl in Orlando, Florida and was the first WrestleMania to be held in the state of Florida. WrestleMania XXIV was the second WrestleMania to be held outdoors, with the first being
WWE WrestleMania 9
, held in Caesars Palace in Las Vegas, Nevada.
Tickets for the event commenced sale to the public on November 3, 2007. WWE and the City of Orlando hosted festivities that spanned a five-day period within the central Florida region. For the second consecutive year, WrestleMania broke the record for the highest-grossing pay-per-view in WWE history. It also set a gate record for the Citrus Bowl, grossing US$5.85 million in ticket sales. According to a study by Enigma Research Corporation of Toronto, the Citrus Bowl's record-breaking attendance brought an estimated $51.5 million – surpassing the projected $25 million – into the local economy and generated $1.8 million in local tax revenue. The Central Florida Sports Commission reported that the event created jobs and brought approximately 60,000 visitors to the city. Over one million people ordered the event on pay-per-view, grossing $23.8 million in revenue.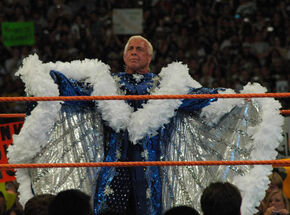 Ad blocker interference detected!
Wikia is a free-to-use site that makes money from advertising. We have a modified experience for viewers using ad blockers

Wikia is not accessible if you've made further modifications. Remove the custom ad blocker rule(s) and the page will load as expected.