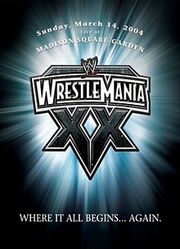 WrestleMania XX was the twentieth annual
WWE WrestleMania
professional wrestling pay-per-view produced by
World Wrestling Entertainment
(WWE). It took place on March 14, 2004, at
Madison Square Garden
in New York City. This was the third time that Wrestlemania was hosted in Madison Square Garden.
WrestleMania XX was the third WrestleMania at Madison Square Garden (after WrestleManias 1 and 10) and the fourth of five WrestleManias in the New York metropolitan area (alongside WrestleManias 1, 2, 10 and 29). The event grossed US$2.4 million in ticket sales, making the Pay-Per-View the highest grossing event ever for WWE at Madison Square Garden. More than 20,000 people from 16 countries, 48 states attended the event, which was also televised in more than 90 countries. The event generated an estimated $13.5 million of economic activity for New York City and created an equivalent of 96 full-year jobs.
Ad blocker interference detected!
Wikia is a free-to-use site that makes money from advertising. We have a modified experience for viewers using ad blockers

Wikia is not accessible if you've made further modifications. Remove the custom ad blocker rule(s) and the page will load as expected.