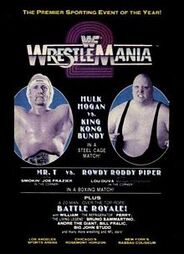 WrestleMania 2
was the second annual WrestleMania professional wrestling pay-per-view event produced by the
World Wrestling Federation
(although the first WrestleMania was only on pay-per-view in select areas). It took place on Monday, April 7, 1986, making it the only WrestleMania that was not held on the customary Sunday. WrestleMania 2 took place at three venues: the Nassau Veterans Memorial Coliseum in Uniondale, New York, the Rosemont Horizon in Rosemont, Illinois, and the Los Angeles Memorial Sports Arena in Los Angeles, California.
Each venue had one main event match and an undercard. As with the first WrestleMania, the matches were shown on closed-circuit television across North America. The event was also the first WrestleMania to air on the national pay-per-view market. The commentating teams consisted of Vince McMahon and Susan Saint James in New York, Gorilla Monsoon, Gene Okerlund, and Cathy Lee Crosby in Chicago and Jesse Ventura, Alfred Hayes, and Elvira in Los Angeles. The ring announcers were Howard Finkel (New York), Chet Coppock (Chicago), and Lee Marshall (Los Angeles).
New York Results
Chicago Results
Las Angeles Results
Ad blocker interference detected!
Wikia is a free-to-use site that makes money from advertising. We have a modified experience for viewers using ad blockers

Wikia is not accessible if you've made further modifications. Remove the custom ad blocker rule(s) and the page will load as expected.