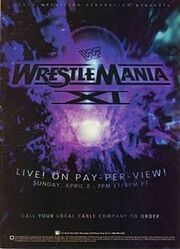 WrestleMania XI was the eleventh annual
WWE WrestleMania
pay-per-view event held by the
World Wrestling Federation
(WWF) at the Hartford Civic Center in Hartford, Connecticut on April 2, 1995.
The match between Lawrence Taylor and Bam Bam Bigelow brought the WWF mainstream press coverage. The reactions to the match were mixed; some people thought that Taylor performed surprisingly well for a non-wrestler. Others thought that the WWF pushing a football player to defeat a wrestler made professional wrestling look bad. Reviews of the event as a whole have also been mixed, and the event has been called both the worst WrestleMania of all time and the event that saved the WWF.
Ad blocker interference detected!
Wikia is a free-to-use site that makes money from advertising. We have a modified experience for viewers using ad blockers

Wikia is not accessible if you've made further modifications. Remove the custom ad blocker rule(s) and the page will load as expected.