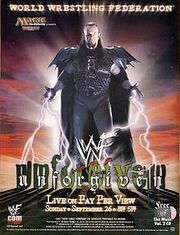 Unforgiven (1999) was the second
WWE Unforgiven
pay-per-view event produced by
World Wrestling Federation
(WWF). It was presented by Wizards of the Coast's Magic: The Gathering and took place on September 26, 1999, at the Charlotte Coliseum in Charlotte, North Carolina.
The matches of the event featured special guest referees due to the WWF officials being out on "strike" due to continuous assaults on them by wrestlers. However, only one WWF official Jim Korderas served as the referee of the event. He refereed Dudley Boyz vs. The Acolytes, the WWF Tag Team Championship match and the WWF Championship match.
Ad blocker interference detected!
Wikia is a free-to-use site that makes money from advertising. We have a modified experience for viewers using ad blockers

Wikia is not accessible if you've made further modifications. Remove the custom ad blocker rule(s) and the page will load as expected.