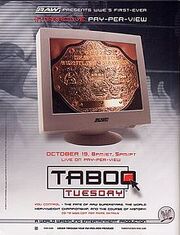 Taboo Tuesday (2004) was a pay-per-view event produced by
World Wrestling Entertainment
(WWE) and presented by AT&T which took place on October 19, 2004 at the Bradley Center in Milwaukee, Wisconsin. It was the first annual
WWE Taboo Tuesday
event, marking the first time in which the fans were given the chance to vote on stipulations for the matches. The voting for the event started on October 18, 2004 and ended during the event. Eight professional wrestling matches were featured on the event's card. The event starred wrestlers from the
Raw
brand.
Taboo Tuesday grossed over $215,000 in ticket sales from an attendance of 3,500 and received 174,000 pay-per-view buys. This event helped WWE increase its pay-per-view revenue by $6.2m compared to the previous year. When the event was released on DVD, it reached a peak position of seventh on Billboard's DVD Sales Chart.
Taboo Tuesday was the first regularly-scheduled pay-per-view held by WWE on a Tuesday since 1991's WWF This Tuesday in Texas, the first regularly-scheduled non-Sunday pay-per-view since the WWE Survivor Series 1994, and the first non-Sunday pay-per-view of any kind since WWF In Your House 8: Beware of Dog 2 in 1996.
Ad blocker interference detected!
Wikia is a free-to-use site that makes money from advertising. We have a modified experience for viewers using ad blockers

Wikia is not accessible if you've made further modifications. Remove the custom ad blocker rule(s) and the page will load as expected.