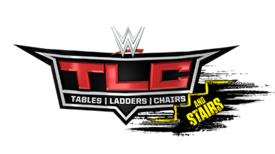 TLC: Tables, Ladders & Chairs is a professional wrestling event produced annually by
WWE
and broadcast live and available only through pay-per-view (PPV). The event was established in 2009, replacing
WWE Armageddon
in the December slot of WWE's pay-per-view calendar. However, the concept of the show is based on the primary matches of the card each containing a stipulation utilizing tables, ladders and/or chairs as legal weapons. The event's concept was voted by fans via WWE's official website and was chosen over an event with street fight main events and an event featuring a single-elimination tournament.
The 2014 event was called Tables Ladders Chairs and Stairs or TLCS. Mostly because there was the first ever steel steps match between Erick Rowan and Big Show, steel steps or stairs represents S in TLCS.
The concept of this pay-per-view is that the main event matches have stipulations that involve legally using tables, ladders, or chairs. In 2010, every match involved tables, ladders, or chairs. During the show, there were Tables matches, Ladder matches, Chairs matches, and TLC matches. In a tables match, the only way to win is to put your opponent through a table. In a ladder match, the only way to win is to climb the ladder and retrieve the item above the ring. In a chairs match, the only way to win is by pinfall or submission in the ring, while using a chair as a legal weapon. In a TLC match, the same rules apply as a ladder match, but tables and chairs can also be used. In 2014, the event name was changed into TLC: Tables, Ladders, Chairs... and Stairs following the debut of Steel Stairs match.