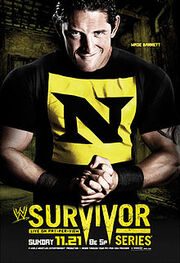 Survivor Series (2010) was a professional wrestling event produced by
World Wrestling Entertainment
(WWE) and presented by WowWee's Paper Jamz, that took place on November 21, 2010, at the American Airlines Arena in Miami, Florida. It was the twenty-fourth annual Survivor Series event and eight matches took place.
The Survivor Series chronology was originally set to end with the 2009 event when during a press conference held on February 11, 2010, WWE chairman, Vince McMahon announced that WWE would drop the Survivor Series name and rebrand the event. However, following public outcry and several different fan petitions the name was later reinstated and in June 2010, WWE started to release tickets for a 2010 event.
Ad blocker interference detected!
Wikia is a free-to-use site that makes money from advertising. We have a modified experience for viewers using ad blockers

Wikia is not accessible if you've made further modifications. Remove the custom ad blocker rule(s) and the page will load as expected.