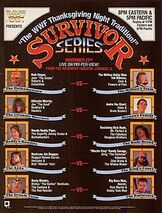 Survivor Series (1989)
was the third annual
WWE Survivor Series
professional wrestling pay-per-view event produced by the
World Wrestling Federation (WWF)
. It took place on Thanksgiving Day, November 23, 1989, at the Rosemont Horizon in Rosemont, Illinois. This was the first Survivor Series event to feature team names and to feature four-on-four tag matches instead of five-on-five.
The Hulkamaniacs (Hulk Hogan, Demolition (Ax and Smash) and Jake Roberts) defeated The Million Dollar Team (Ted DiBiase, The Powers of Pain (The Warlord and The Barbarian) and Zeus) (with Virgil and Mr. Fuji)
Ad blocker interference detected!
Wikia is a free-to-use site that makes money from advertising. We have a modified experience for viewers using ad blockers

Wikia is not accessible if you've made further modifications. Remove the custom ad blocker rule(s) and the page will load as expected.