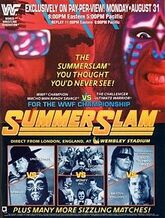 SummerSlam (1992) was the fifth annual
WWE SummerSlam
pay-per-view event produced by the
World Wrestling Federation (WWF)
. It took place on August 29, 1992, at Wembley Stadium, London, England but was aired in the United States on August 31. To date it is the only major WWE Pay-Per-View to take place outside North America.
The WWF considers the crowd to be the third largest live audience ever to attend a WWF/E event, with 80,355 in attendance; WWE WrestleMania 29 in 2013 is reported as having 80,676 fans in attendance and WWE WrestleMania 3 in 1987 is reported as having 93,173 fans in attendance. Some writers believe that the WWF inflated the attendance figure for WrestleMania III, however, and that SummerSlam 1992 had a larger crowd. Between ticket prices and merchandise sales, the WWF made over $3,650,000 in revenue. Reviews of the event are almost all positive, and the Smith-Hart match has been rated the best match in SummerSlam history.
Ad blocker interference detected!
Wikia is a free-to-use site that makes money from advertising. We have a modified experience for viewers using ad blockers

Wikia is not accessible if you've made further modifications. Remove the custom ad blocker rule(s) and the page will load as expected.