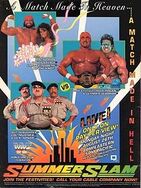 SummerSlam (1991) was the fourth annual
WWE SummerSlam
pay-per-view event produced by the
World Wrestling Federation (WWF)
. It took place on August 26, 1991, at Madison Square Garden in New York, New York.
SummerSlam 1991 is remembered for the on-screen wedding of Randy Savage and Miss Elizabeth, dubbed "A Match Made in Heaven" by announcer Gene Okerlund. Savage and Elizabeth had been married in real life since December 1984. WWF personalities shown at the reception afterward included Bobby Heenan, Gene Okerlund, J.J. Dillon, The Undertaker, and Jake Roberts. The last two were uninvited guests. Roberts proceeded to frighten Elizabeth with his snake while Undertaker attacked Savage with an urn.
This was contrasted with "A Match Made in Hell", the main event of the show, which was a handicap tag team match between WWF Champion Hulk Hogan and The Ultimate Warrior against Sgt. Slaughter, General Adnan and Colonel Mustafa. It was Slaughter's final on-screen appearance as an Iraqi sympathizer, a storyline fueled by the Gulf War.
Among the other on-screen highlights of the event was The Legion of Doom defeating The Nasty Boys to win the WWF Tag Team Championship. The team became the only tag team in wrestling history to have held the WWF Tag Team Championship, the NWA World Tag Team Championship, and the AWA World Tag Team Championship. Another highlight was Bret Hart winning his first singles championship in the WWF when he defeated Mr. Perfect for the WWF Intercontinental Championship. After winning the match, Hart climbed into the stands to hug his mom and dad Stu and Helen Hart.
Ad blocker interference detected!
Wikia is a free-to-use site that makes money from advertising. We have a modified experience for viewers using ad blockers

Wikia is not accessible if you've made further modifications. Remove the custom ad blocker rule(s) and the page will load as expected.