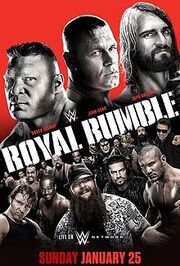 Royal Rumble (2015) was a pay-per-view (PPV) event produced by
WWE
. It took place on January 25, 2015 at the Wells Fargo Center in Philadelphia, Pennsylvania. It was the twenty-eighth annual Royal Rumble event and the first to air on the
WWE Network
.
Like the previous year's event, it was marked by an extremely negative audience reaction to the main Royal Rumble match, which was won by Roman Reigns. WWE was criticized for failing to please fans for the second Royal Rumble event in a row. However, the WWE (World Heavyweight) Championship triple threat match between Brock Lesnar, John Cena and Seth Rollins received widespread acclaim from fans and critics alike.
The event received 145,000 buys (excluding WWE Network views), down from the previous year's 467,000 buys.
Ad blocker interference detected!
Wikia is a free-to-use site that makes money from advertising. We have a modified experience for viewers using ad blockers

Wikia is not accessible if you've made further modifications. Remove the custom ad blocker rule(s) and the page will load as expected.