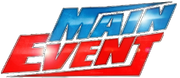 WWE Main Event
is a
WWE
television program that originally aired on Ion Television in the United States, then the
WWE Network
and is now broadcast on Hulu Plus. It debuted on October 3, 2012 and ended its domestic broadcasting on April 2, 2014. After the final domestic TV broadcast the show moved to an internet broadcast format. The show features lower to mid card WWE wrestlers and complements WWE's primary programs Raw and SmackDown.
The show is produced on Tuesday evenings, right before the SmackDown taping. Though its airing on the WWE Network that same evening is billed as "live", it actually airs on a slight tape delay. It uses the same HD set and the all-white ring ropes as all other WWE programming (though for the month of October 2012 and October 2013, the middle rope was pink, to promote WWE and Susan G. Komen for the Cure's breast cancer awareness campaign).
Ad blocker interference detected!
Wikia is a free-to-use site that makes money from advertising. We have a modified experience for viewers using ad blockers

Wikia is not accessible if you've made further modifications. Remove the custom ad blocker rule(s) and the page will load as expected.