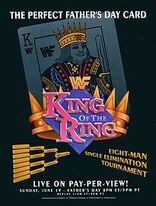 King of the Ring (1994) was the second annual
WWE King of the Ring
pay-per-view (PPV) event produced by the
World Wrestling Federation (WWF)
. It took place on June 19, 1994, at the Baltimore Arena in Baltimore, Maryland. "King of the Ring" is also the name of the tournament that was the focus of this pay-per-view event. The tournament to determine which wrestler would be crowned King of the Ring actually began the month before the pay-per-view, as the wrestlers gained entry in the tournament by participating in qualifying matches. These matches were held throughout May 1994 on WWF television programs, although the WWF did not explain how wrestlers were selected to compete in the qualifying matches. The second, third and fourth rounds of the tournament were televised on the pay-per-view broadcast on June 19.
WWE King of the Ring, King of the Ring Tournament, WWE Pay Per Views
Ad blocker interference detected!
Wikia is a free-to-use site that makes money from advertising. We have a modified experience for viewers using ad blockers

Wikia is not accessible if you've made further modifications. Remove the custom ad blocker rule(s) and the page will load as expected.