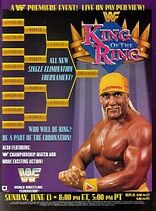 King of the Ring (1993) was a pay-per-view (PPV) event produced by the
World Wrestling Federation (WWF)
. This was the first of ten
WWE King of the Ring
events that was produced as a pay-per-view. The event resulted from the WWF's decision to make its annual King of the Ring tournament into a televised event. It took place on June 13, 1993, at the Nutter Center in Dayton, Ohio.
The central focus of this PPV event was the tournament itself. Wrestlers gained entry into the tournament by participating in qualifying matches on WWF television programs, and the second, third and fourth rounds of the tournament were televised on the King of the Ring PPV broadcast. Bret Hart won the tournament by defeating Razor Ramon, Mr. Perfect, and Bam Bam Bigelow. He was attacked by Jerry Lawler during a coronation ceremony, which led to a feud that lasted more than two years. In addition to the tournament, the event featured Yokozuna defeating Hulk Hogan for the WWF Championship as well as Shawn Michaels retaining his belt in a match against Crush for the WWF Intercontinental Championship.
Reviews of the event have been mainly positive. Several reviewers have called Bret Hart's matches the highlight of the PPV. The match for the Intercontinental Championship has received positive reviews, but the ending to the WWF Championship match, which featured Hulk Hogan in his final PPV appearance in the WWF until 2002, has been criticized. The event was attended by 6,500 fans — the lowest attendance of any King of the Ring event. The PPV buyrate, however, was the highest of any King of the Ring event until 1999. The event has been released on VHS in North America and on VHS and DVD in the United Kingdom.
WWE Pay Per Views, WWE King of the Ring, King of the Ring Tournament
Ad blocker interference detected!
Wikia is a free-to-use site that makes money from advertising. We have a modified experience for viewers using ad blockers

Wikia is not accessible if you've made further modifications. Remove the custom ad blocker rule(s) and the page will load as expected.