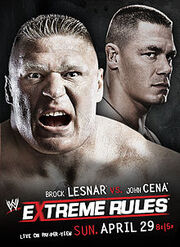 Extreme Rules (2012) was a pay-per-view (PPV) event produced by
WWE
. It took place on April 29, 2012 at the Allstate Arena in Rosemont, Illinois. It was the fourth event under the Extreme Rules chronology. Eight professional wrestling matches were scheduled on the event's card and one pre-show match was streamed on YouTube. It featured Brock Lesnar's first WWE match since
WWE WrestleMania 20
in 2004.
The concept of Extreme Rules was that the event would feature various hardcore-based matches. The pay-per-view received universally positive reviews, with the main event and two world championship matches drawing high praise from critics and fans. The event received 263,000 buys, up 25.8% from the 209,000 buys for the previous year's event,[5] whereas the next Extreme Rules event in 2013 received 231,000 buys, a drop of 12.1%.
Ad blocker interference detected!
Wikia is a free-to-use site that makes money from advertising. We have a modified experience for viewers using ad blockers

Wikia is not accessible if you've made further modifications. Remove the custom ad blocker rule(s) and the page will load as expected.