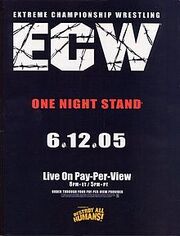 ECW One Night Stand (2005) was a pay-per-view event produced by
World Wrestling Entertainment
(WWE). Presented by THQ's Destroy All Humans!, it was held on June 12, 2005, at the Hammerstein Ballroom in New York, New York. It was billed as an
ECW
Reunion Event.
Although the build-up for the pay-per-view began in the middle of May, plans were in the works behind the scenes for several months in advance. Tommy Dreamer was in charge of organizing the event and getting ECW Originals to participate. He contacted several people, including The Sandman, Sabu, Justin Credible, and ECW commentator Joey Styles. Reports later stated that Paul Heyman was working with Dreamer to help prepare the event. Other ECW related wrestlers were later added to the pay-per-view. The event was publicly confirmed by WWE through a Dish Network magazine in March 2005. In an interview with SLAM! Sports days before One Night Stand, ECW Original Rob Van Dam announced he had asked Vince McMahon about the idea of holding an ECW reunion event.
According to reports, many people backstage were very happy with the way One Night Stand went and many former ECW wrestlers that had worked the pay-per-view described it as a "fun" event. 325,000 people bought the event on pay-per-view. Many tried to order it through WWE's official website, but the website was shut down because not enough bandwidth was available.
Ad blocker interference detected!
Wikia is a free-to-use site that makes money from advertising. We have a modified experience for viewers using ad blockers

Wikia is not accessible if you've made further modifications. Remove the custom ad blocker rule(s) and the page will load as expected.