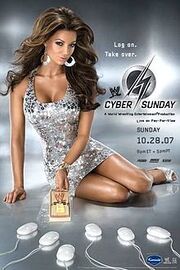 Cyber Sunday (2007) was the fourth annual
WWE Cyber Sunday
pay-per-view event produced by
World Wrestling Entertainment
(WWE). It was presented by Fathead and took place on October 28, 2007, at the Verizon Center in Washington, D.C. The most important feature of Cyber Sunday is the ability for fans to vote online through WWE.com on certain aspects of every match.
Ad blocker interference detected!
Wikia is a free-to-use site that makes money from advertising. We have a modified experience for viewers using ad blockers

Wikia is not accessible if you've made further modifications. Remove the custom ad blocker rule(s) and the page will load as expected.