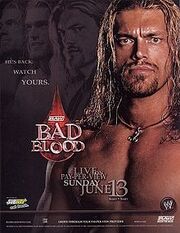 Bad Blood (2004) was a pay-per-view event produced by
World Wrestling Entertainment (WWE)
and presented by Subway, which took place on June 13, 2004, at the Nationwide Arena in Columbus, Ohio. It was the third and final annual Bad Blood event. The main event was a Hell in a Cell Match,.
The event marked the third time the Hell in a Cell format was used by WWE in a WWE Bad Blood event; the first was at WWF In Your House 18: Badd Blood in 1997. Bad Blood grossed over $494,000 ticket sales from an attendance of 9,000 and received 264,000 pay-per-view buys, and was instrumental in helping WWE increase its pay-per-view revenue by $4.7 million compared to the previous year. When the event was released on DVD, it reached a peak position of third on Billboard's DVD Sales Chart.
Ad blocker interference detected!
Wikia is a free-to-use site that makes money from advertising. We have a modified experience for viewers using ad blockers

Wikia is not accessible if you've made further modifications. Remove the custom ad blocker rule(s) and the page will load as expected.