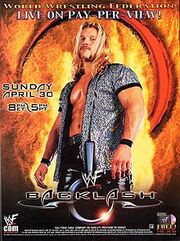 Backlash (2000) was a pay-per-view event produced by the
World Wrestling Federation
(WWF) promotion. It took place on April 30, 2000, at the MCI Center in Washington, D.C.. It was the second event under the Backlash chronology. Nine professional wrestling matches were scheduled on the event's card.
Ad blocker interference detected!
Wikia is a free-to-use site that makes money from advertising. We have a modified experience for viewers using ad blockers

Wikia is not accessible if you've made further modifications. Remove the custom ad blocker rule(s) and the page will load as expected.