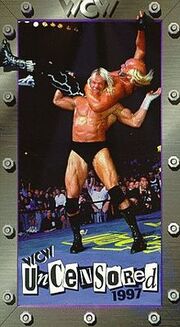 Uncensored 1997 took place on March 16, 1997 from the North Charleston Coliseum in Charleston, South Carolina.
The main event Triangle Elimination match featured a specific "prize" for each team if they won the match:
Team Piper was originally composed of Roddy Piper, John Tenta, Layton Morrison (a kickboxer), and Craig Mally (a boxer). On the March 10, 1997 episode of WCW Nitro, which aired six days before the pay-per-view, they were replaced by The Four Horsemen members Chris Benoit, Steve McMichael and Jeff Jarrett. Team WCW originally included Rick Steiner, but he was attacked prior to the match by the nWo and was unable to compete, leaving the team at a one-man disadvantage in the match. Wrestlers could be eliminated by either pinfall, submission, or being thrown over the top rope. The team that the wrestler represents is shown in parentheses.
Ad blocker interference detected!
Wikia is a free-to-use site that makes money from advertising. We have a modified experience for viewers using ad blockers

Wikia is not accessible if you've made further modifications. Remove the custom ad blocker rule(s) and the page will load as expected.