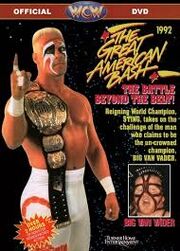 The Great American Bash (1992) took place on July 12, 1992 at the Albany Civic Center in Albany, Georgia. Shinya Hashimoto was substituting for the injured Akira Nogami. After the tournament the WCW and NWA World Tag Team Championships were considered to be unified and were defended together by Gordy and Williams and subsequent champions until WCW withdrew from the NWA in 1993. Before the final match,
The Steiner Brothers
came out to confront "Dr. Death" Steve Williams and Terry Gordy but were sent to the dressing room by security.
Ad blocker interference detected!
Wikia is a free-to-use site that makes money from advertising. We have a modified experience for viewers using ad blockers

Wikia is not accessible if you've made further modifications. Remove the custom ad blocker rule(s) and the page will load as expected.