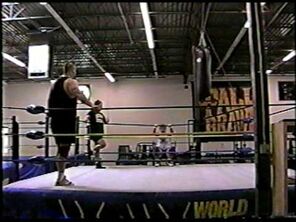 The WCW Power Plant is a former professional wrestling school located at 1030 Carrol Drive in Atlanta, Georgia and owned and operated by
World Championship Wrestling
. The Power Plant, which was developed from a school was in operation throughout the 1990s. It stopped holding contests in December 1999 and closed in March 2001 when WCW's assets were sold to
World Wrestling Entertainment
.
The Power Plant was advertised on WCW Monday Nitro. Once a month, open tryouts were held for applicants between the ages of 18 and 29. If the applicants were suitably impressive, they would earn an invitation to join the school at a cost of $3,000 for six months training. Male applicants had to be at least 5 ft 9 in (1.75 m) tall and 180 lb (82 kg) in weight.
To succeed at the Power Plant, a trainee was required to display a great deal of strength and stamina, with less focus on basic wrestling skills. Bret Hart, who was forced to retire when a stiff kick from Power Plant graduate Bill Goldberg tore a muscle in his neck and gave him post-concussion syndrome, blamed the end of his career on the Power Plant training regime, saying "I don't think it was a priority to protect your opponent."
While researching professional wrestling for a BBC documentary, journalist Louis Theroux visited the Power Plant. He volunteered to take part in some training in an effort to show some respect for the business, but as he had asked Dewayne Bruce some questions about kayfabe, he was forced into very hard exercise. At one stage, Bruce encouraged the other trainees to call him a cockroach while Theroux was struggling to regain his breath. Theroux was later shown vomiting on camera.
Ad blocker interference detected!
Wikia is a free-to-use site that makes money from advertising. We have a modified experience for viewers using ad blockers

Wikia is not accessible if you've made further modifications. Remove the custom ad blocker rule(s) and the page will load as expected.