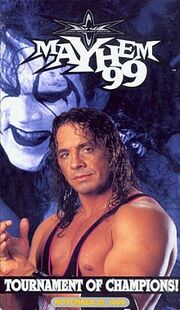 Mayhem 1999 took place on November 21, 1999 from the Air Canada Centre in Toronto, Ontario.
During the WCW World Heavyweight Championship tournament semi-final match beteen Bret Hart and Sting, The Total Package interfered by attacking Sting with a baseball bat. This led to Hart was announced as the winner via disqualification. Not wanting to win in this manner, Hart demanded the match be restarted, and ultimately forced Sting to submit with the Sharpshooter. Scott Hall was originally supposed to face Rick Steiner for the WCW World Television Championship, but Steiner was too injured to compete. Hall was awarded the title by forfeit and immediately had to defend it against Booker T instead.
Ad blocker interference detected!
Wikia is a free-to-use site that makes money from advertising. We have a modified experience for viewers using ad blockers

Wikia is not accessible if you've made further modifications. Remove the custom ad blocker rule(s) and the page will load as expected.