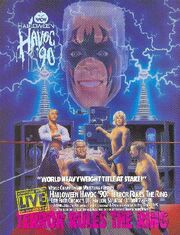 Halloween Havoc 1990 took place on October 27, 1990 from the UIC Pavilion in Chicago, Illinois and was hosted by
World Championship Wrestling
.
Barry Windham
, disguised as Sting, traded places with Sting during the main event, after Sid Vicious attacked him backstage during the match. Sid originally won the match after falling on top of Windham while he tried to bodyslam Vicious. Sting came out after the pin to reveal the ruse and the match was restarted.
Ad blocker interference detected!
Wikia is a free-to-use site that makes money from advertising. We have a modified experience for viewers using ad blockers

Wikia is not accessible if you've made further modifications. Remove the custom ad blocker rule(s) and the page will load as expected.