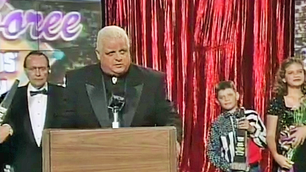 The
World Championship Wrestling
(WCW) Hall of Fame was an American professional wrestling hall of fame maintained by World Championship Wrestling (WCW). It was established in 1993 to honor wrestlers who began their careers long before the 1990s, mostly alumni of the
National Wrestling Alliance
(NWA) and
Jim Crockett Promotions
(JCP), the predecessors of WCW. Inductees received commemorative plaques that had their names inscribed on it. Wrestlers were inducted by
Gordon Solie
, a senior announcer in professional wrestling, and received their plaque during the "Legends Reunion" segment at
WCW Slamboree
. The WCW Hall of Fame was the second hall of fame established to honor professional wrestlers, after the creation of the
World Wrestling Federation (WWF) Hall of Fame
in February 1993. After the 1995 Hall of Fame ceremony, WCW stopped the production of the Hall of Fame without a formal announcement. In 2001, after WCW filed for bankruptcy, the WWF acquired all of its assets; this led to the formal stoppage of the WCW Hall of Fame. The WWF, however, stopped producing its Hall of Fame ceremony after 1996. In 2004, World Wrestling Entertainment (WWE), the WWF's successor,[3] reinstated the WWE Hall of Fame, which included inductees that were alumni of WWE, NWA, JCP, and WCW.
Inductees
Edit
Ad blocker interference detected!
Wikia is a free-to-use site that makes money from advertising. We have a modified experience for viewers using ad blockers

Wikia is not accessible if you've made further modifications. Remove the custom ad blocker rule(s) and the page will load as expected.