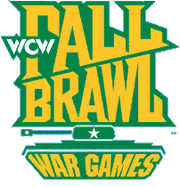 Fall Brawl 1999 took place on September 12, 1999 from the Lawrence Joel Veterans Memorial Coliseum in Winston-Salem, North Carolina. This was the first
WCW Fall Brawl
not to have a War Games Match.
Berlyn was originally supposed to face Buff Bagwell, but the storyline was that Bagwell was late in arriving. In reality, Bagwell had refused to lose the match. Instead Berlyn wrestled against Jim Duggan.
Ad blocker interference detected!
Wikia is a free-to-use site that makes money from advertising. We have a modified experience for viewers using ad blockers

Wikia is not accessible if you've made further modifications. Remove the custom ad blocker rule(s) and the page will load as expected.