Oleg Aleksandrovich Prudius (April 27, 1972) is a Ukrainian-American professional wrestler, also known by his ring name Vladimir Kozlov. Since competing for WWE, he won the WWE Tag Team Championships with Santino Marella on one occasion. He is trained in freestyle wrestling, rugby, football, sambo, kickboxing, judo, and mixed martial arts.
Prudius has also worked as a stage and screen actor, notably having a small role in Spike Lee's 25th Hour. Prudius also had a role in Grindhouse, appearing in the "Werewolf Women of the SS" trailer; he was credited under his real name and his WWE persona for the appearance. He is a former Ohio Valley Wrestling Heavyweight Champion.
WWE Alumni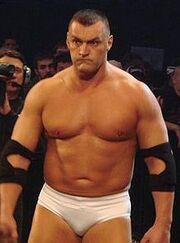 Ad blocker interference detected!
Wikia is a free-to-use site that makes money from advertising. We have a modified experience for viewers using ad blockers

Wikia is not accessible if you've made further modifications. Remove the custom ad blocker rule(s) and the page will load as expected.