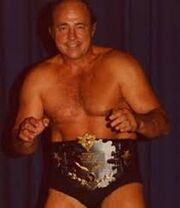 Laverne Clarence "Verne" Gagne (/ɡænjeɪ/; February 26, 1926 – April 27, 2015) was an American professional wrestler, football player, wrestling trainer, and wrestling promoter. He was the owner and promoter of the Minneapolis-based
American Wrestling Association
(AWA), the predominant promotion throughout the Midwest and Manitoba for many years. He remained in this position until 1991, when the company folded.
Gagne was a 16-time World Heavyweight Champion, having held the AWA World Heavyweight Championship ten times, the World Heavyweight Championship (Omaha version) five times, and the IWA World Heavyweight Championship once. He holds the record for the longest combined reign as a world champion and is third (behind Bruno Sammartino and Lou Thesz) for the longest single world title reign. He is one of only six men inducted into each of the WWE, WCW, Professional Wrestling, and Wrestling Observer Newsletter halls of fame.
Ad blocker interference detected!
Wikia is a free-to-use site that makes money from advertising. We have a modified experience for viewers using ad blockers

Wikia is not accessible if you've made further modifications. Remove the custom ad blocker rule(s) and the page will load as expected.