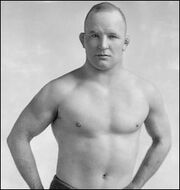 James Ervin "Toots" Mondt (January 18, 1894– June 11, 1976) was an American wrestling promoter who revolutionized the wrestling industry in the early to mid-1920s and co-promoted the
World Wide Wrestling Federation
. Some of the stars Mondt helped create from the 1920s through the 1960s included Wayne Munn, Jim Londos, Antonino Rocca, Bruno Sammartino, Stu Hart and Cowboy Bill Watts.
Ad blocker interference detected!
Wikia is a free-to-use site that makes money from advertising. We have a modified experience for viewers using ad blockers

Wikia is not accessible if you've made further modifications. Remove the custom ad blocker rule(s) and the page will load as expected.