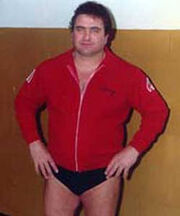 Antonio Pugliese (1941 – August 19, 2000) was an Italian-born Canadian professional wrestler, better known by his ring name, Tony Parisi. Parisi was primarily a tag team wrestler, and he won tag team titles in several organizations, including the
World Wide Wrestling Federation
(WWWF). He held the WWWF World Tag Team Championship from 1975 to 1976. As a singles wrestler, he also won the WWF International Heavyweight Championship.
After retiring from wrestling, Pugliese continued to work in the industry and also operated a hotel and restaurant. He died in 2000 after suffering a heart attack.
Ad blocker interference detected!
Wikia is a free-to-use site that makes money from advertising. We have a modified experience for viewers using ad blockers

Wikia is not accessible if you've made further modifications. Remove the custom ad blocker rule(s) and the page will load as expected.