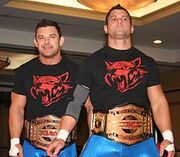 The Wolves are a professional wrestling tag team of
Davey Richards
and
Eddie Edwards
, previously known as The American Wolves. They are wrestling for the American promotion
Total Nonstop Action Wrestling
, where they are three-time TNA World Tag Team Champions. They have previously wrestled for
Ring of Honor
(ROH), where they are two-time ROH World Tag Team Champions.
The two started out as members of Larry Sweeney's alliance Sweet N' Sour Inc., but forged a tag team on their own. As well as being a tag team unit, the two wrestlers have had strong singles careers, with Edwards being ROH's first World Television Champion and the first to complete the Triple Crown Championship after winning the ROH World Championship, which he then went on to drop to Richards. They were originally managed by Shane Hagadorn when they portrayed villainous characters, but later abandoned him to become fan favourites. They left ROH in 2013, and debuted for TNA in January 2014, winning the TNA World Tag Team Championship a month later.
Ad blocker interference detected!
Wikia is a free-to-use site that makes money from advertising. We have a modified experience for viewers using ad blockers

Wikia is not accessible if you've made further modifications. Remove the custom ad blocker rule(s) and the page will load as expected.