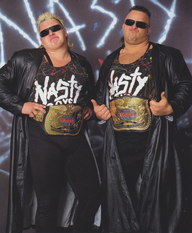 The Nasty Boys are a professional wrestling tag team consisting of
Brian Knobbs
and
Jerry Sags
, active from the mid to late 1980s and throughout the 1990s. Their gimmick was that of anti-social punks who specialized in hardcore wrestling and brawling. They were noted for their distinctive all-black "street look", which, while very commonplace among today's wrestlers, was vastly different from the colorful attire of their wrestling peers of the late 1980s and early 1990s. This included graffiti-sprayed t-shirts, chain-adorned leather trenchoats, and their distinctive mullet-hawk haircuts.
WWE Alumni, WCW Alumni, WWE Tag Teams, WCW Tag Teams, TNA Alumni
Ad blocker interference detected!
Wikia is a free-to-use site that makes money from advertising. We have a modified experience for viewers using ad blockers

Wikia is not accessible if you've made further modifications. Remove the custom ad blocker rule(s) and the page will load as expected.