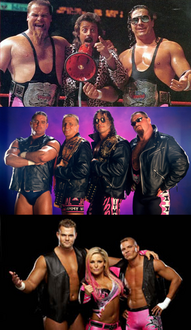 The Hart Foundation
referred to several teams or stables in the
World Wrestling Federation (WWF)
, usually composed of members or close friends of the Hart wrestling family from Canada.
The original Hart Foundation (1985–1991) consisted of Jim "The Anvil" Neidhart and Bret "The Hitman" Hart, who were initially managed by Jimmy Hart (no relation) and won the WWE Tag Team Championship twice. In 1991, after the team was disbanded, Neidhart teamed briefly with Bret's younger brother Owen Hart as The New Foundation. They also teamed in 1994. In 1997, Bret, Neidhart, and Owen joined forces with another brother-in-law, The British Bulldog, and Brian Pillman, to re-form the Hart Foundation as a pro-Canada/anti-American alliance, which at the time held all the available WWF championships: the WWE Championship, WWE Intercontinental Championship, WWE European Championship, and WWE Tag Team Championship.
In 2007, David Hart Smith, Tyson Kidd, and Natalya teamed together as The Next Generation Hart Foundation in WWE (formerly the WWF)'s development territory Florida Championship Wrestling (FCW), where they won the FCW Florida Tag Team Championship. They were later moved to the WWE main roster and renamed The Hart Dynasty where they won the Unified WWE Tag Team Championship.
WWE has consistently ranked the original Hart Foundation as one of the top three greatest tag teams in wrestling history
The New Foundation
Edit
The Hart Dynasty
Edit
Return to
Edit
Ad blocker interference detected!
Wikia is a free-to-use site that makes money from advertising. We have a modified experience for viewers using ad blockers

Wikia is not accessible if you've made further modifications. Remove the custom ad blocker rule(s) and the page will load as expected.