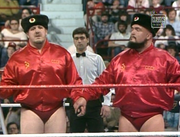 The Bolsheviks were a tag team in the
World Wrestling Federation
from late 1987 until the spring of 1990. The team was composed of
Nikolai Volkoff
and
Boris Zhukov
portraying a pair of Russian Communist bad guys. Volkoff was born Josip Peruzovic on October 14, 1947. Although he portrayed a Russian as a wrestler, he was, in fact, from Croatia. Zhukov was an American named Jim Barrel, who had spent the previous few years of his wrestling career portraying a Russian.
Ad blocker interference detected!
Wikia is a free-to-use site that makes money from advertising. We have a modified experience for viewers using ad blockers

Wikia is not accessible if you've made further modifications. Remove the custom ad blocker rule(s) and the page will load as expected.