Brianna Monique Danielson (née Garcia-Colace) and Nicole Garcia-Colace (born November 21, 1983) are American twin models, actresses, and professional wrestlers. The twins are a professional wrestling tag team under the ring names
Brie Bella
and
Nikki Bella
respectively, collectively referred to as The Bella Twins. They work for
WWE
, where Nikki is the reigning two-time WWE Divas Champion.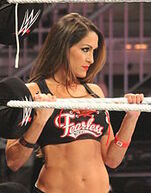 Before being promoted to the main WWE roster, The Bella Twins wrestled with
Florida Championship Wrestling
, where they were trained by
Tom Prichard
, and mainly competed in tag team competition. Brie made her debut on
SmackDown
in August 2008; she debuted first, and as part of her in-ring persona, would disappear under the ring during matches, emerging revived. Eventually, however, it was discovered she was switching places with her twin, Nikki, under the ring in order to gain an advantage. They then competed in tag team matches. Beginning in November 2008, an angle was written in which The Bella Twins developed an on-screen relationship with
The Colons
(
Carlito
and
Primo
). They were later involved in storyline romances with
John Morrison
and
The Miz
in early 2009 and Daniel Bryan in 2010. In April 2011, Brie won the WWE Divas Championship and Nikki won it a year later in April 2012. Shortly afterward, they departed WWE, but returned in March 2013. That same year, both starred in the reality television show Total Divas.
Nikki Bella
Edit
Brie Bella
Edit
Ad blocker interference detected!
Wikia is a free-to-use site that makes money from advertising. We have a modified experience for viewers using ad blockers

Wikia is not accessible if you've made further modifications. Remove the custom ad blocker rule(s) and the page will load as expected.