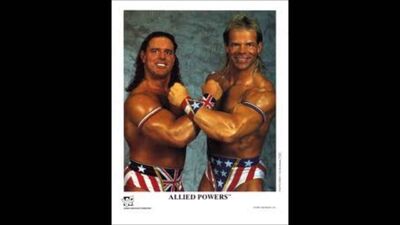 Allied Powers was a short-lived professional wrestling tag team in
World Wrestling Federation
that consisted of
Lex Luger
and "
The British Bulldog
" Davey Boy Smith for eight months in 1995. Their name is a reference to the close friendship between the United States and the United Kingdom, as well as their alliance in World War II. At the time, both men portrayed themselves as patriotic symbols of their countries.
Ad blocker interference detected!
Wikia is a free-to-use site that makes money from advertising. We have a modified experience for viewers using ad blockers

Wikia is not accessible if you've made further modifications. Remove the custom ad blocker rule(s) and the page will load as expected.