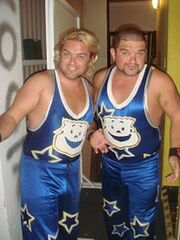 The All-Knighters are a Canadian professional wrestling tag team consisting of real life brothers Joey and Patrick Carolan, better known by their ring names Joey Knight and Robin Knightwing. One of the top tag teams wrestling in the Canadian independent circuit during the late-1990s, The All-Knighters have also made appearances in both the United Kingdom and the United States.
Among the numerous promotions The All-Knighters have competed include Ron Hutchinson's Apocalypse Wrestling Federation, Ultimate Wrestling Alliance, Far North Wrestling, the Frontier Wrestling Alliance, Live Wrestling Entertainment, the National Wrestling Alliance, New England Championship Wrestling and World Xtreme Wrestling. They have also wrestled occasionally for World Wrestling Entertainment, most notably, their appearance at WWE WrestleMania 23 where they were paid by Donald Trump to shave their heads. Later during the event, they accompanied The Undertaker to his match as two of his druids.
Ad blocker interference detected!
Wikia is a free-to-use site that makes money from advertising. We have a modified experience for viewers using ad blockers

Wikia is not accessible if you've made further modifications. Remove the custom ad blocker rule(s) and the page will load as expected.