Team Canada was the name of several factions in WCW and TNA.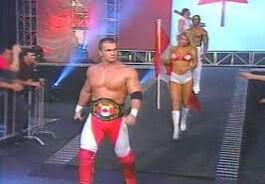 Team Canada came into existence in Vancouver, Canada at
WCW New Blood Rising
on August 13, 2000, where the Canadian Lance Storm was defending the
WCW United States Heavyweight Championship
in a match with Mike Awesome. The match was refereed by the Canadian Jacques Rougeau, who enabled Storm to defeat Awesome and retain his title by constantly changing the rules. Following the match, the semi-retired Canadian wrestler Bret Hart came to the ring and hugged Storm and Rougeau. The stable disbanded in 2001 as
WCW
was purchased by the
World Wrestling Federation
(although Storm and Awesome continued to team upon joining the WWF).
In 2004, wrestling promoter and personality "Coach" Scott D'Amore brought together fellow Canadians to form his own incarnation of Team Canada in
Total Nonstop Action Wrestling
(TNA) for the 2004 America's X-Cup Tournament.
The original team was composed of Teddy Hart as team captain, with Jack Evans, Johnny Devine, and Petey Williams as his teammates. When the World X-Cup was announced, the team was revamped to add power to the speed and agility in the previous incarnation of the team. Petey Williams would replace Hart as team captain, Johnny Devine would remain on the team, and Eric Young and Bobby Roode would be added to the team. The team made it to the Ultimate X finals, but lost to Team USA (Jerry Lynn, Chris Sabin, Christopher Daniels and Elix Skipper).
On the June 29 episode of Impact!, Jim Cornette announced that Team Canada was disbanded. He later allowed them an all-or-nothing 8-man tag team match on the July 13 episode against Rhino, Team 3D, and Jay Lethal, with a stipulation that the disbanding order would be null and void if Team Canada won; Jay Lethal pinned A-1, ending Team Canada's run as a group in TNA.
Then at TNA Victory Road 2006, D'Amore would bring all 4 members of Team Canada out for one last time to say his farewells to each member, starting with Roode saying he would be a future world champ, then Petey saying he will excel in the X Division, then A1 saying he is a true powerhouse, and finally blaming Young saying it was his fault that they are disbanded.