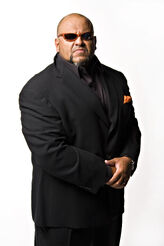 Peter Senerchia (born October 11, 1967) is a former American color commentator and former professional wrestler, best known under his ring name Tazz, also spelled Taz. He last worked for
Total Nonstop Action Wrestling
(TNA), where he was a color commentator for their television and pay-per-view events.
He is best known from his tenure in Extreme Championship Wrestling (ECW), where he was a two time World Heavyweight Champion, a two time World Television Champion, a three time World Tag Team Champion, a two time (and the inaugural) FTW Heavyweight Champion, and the fourth ECW Triple Crown Champion.
His World Wrestling Federation/Entertainment (WWF/E) career as an in-ring performer came to an early end in 2002, when mounting injuries forced him to retire and subsequently saw him transition into a color commentary role, which he continued to do until his contract with WWE expired in April 2009. Two months later, Senerchia debuted in Total Nonstop Action Wrestling at TNA Victory Road 2009 under his original Taz ring name and eventually reprised his role as a color commentator for TNA's broadcasts, replacing Don West. On April 15, 2015, it was announced that Taz left TNA.
Ad blocker interference detected!
Wikia is a free-to-use site that makes money from advertising. We have a modified experience for viewers using ad blockers

Wikia is not accessible if you've made further modifications. Remove the custom ad blocker rule(s) and the page will load as expected.