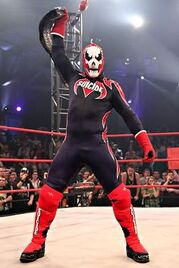 Suicide aka "Manik" is a professional wrestling gimmick, formerly used by multiple professional wrestlers. Suicide first appeared as a fictional character from TNA Impact! the video game. In December 2008, the Suicide character was introduced on television as a real-life wrestler in
Total Nonstop Action Wrestling
. Though having been primarily portrayed by Frankie Kazarian, Christopher Daniels took up the mantle for a time in early 2009 and went on to win the
X Division
Championship. In June 2010 Kiyoshi became the third man to use the gimmick. In October 2010 the gimmick was dropped, but made a brief return in January 2011, once again being portrayed by Christopher Daniels before being dropped once again in April 2011. Suicide returned to television in May 2013 portrayed by T.J. Perkins. Austin Aries wrestled under the Suicide gimmick for one day and won the
TNA X Division Championship
on the episode of
Impact Wrestling
which aired on June 27, 2013. Suicide was "revealed" to be
T.J. Perkins
on the June 30, 2013 episode of Impact Wrestling. Perkins changed his ring name to Manik, using a slightly altered version of the Suicide ring-gear, with new music. Perkins remains the only man to have wrestled under the Manik persona.
Wrestlers who portrayed Suicide
Edit
Ad blocker interference detected!
Wikia is a free-to-use site that makes money from advertising. We have a modified experience for viewers using ad blockers

Wikia is not accessible if you've made further modifications. Remove the custom ad blocker rule(s) and the page will load as expected.