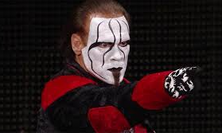 Steve Borden Sr. (born March 20, 1959) is an American professional wrestler, better known by his ring name,
Sting
. He is currently employed by the
WWE
.
Sting is best known for his 14 year career with Jim Crockett Promotions (JCP) and its successor, World Championship Wrestling (WCW), which commenced in 1987. Dubbed "The Franchise of WCW", Sting held a total of 15 championships in the company – including the WCW World Heavyweight Championship on six occasions, the WCW International World Heavyweight Championship on two occasions, and the NWA World Heavyweight Championship on one occasion – and performed in the main event of WCW's flagship pay-per-view event, Starrcade, in 1989, 1990, and 1997. Upon the acquisition of WCW by the World Wrestling Federation (WWF, now WWE) in March 2001, Sting and his long-term rival Ric Flair were chosen to perform in the main event of the final episode of WCW Monday Nitro.
Following the expiration of his AOL Time Warner contract in March 2002, Sting held talks with the WWF but ultimately did not join the promotion, instead touring internationally with World Wrestling All-Stars (WWA)[9] – winning the WWA World Heavyweight Championship – before joining the upstart Total Nonstop Action Wrestling (TNA) promotion in 2003. Over the following 11 years, he won the NWA World Heavyweight Championship on one further occasion and the TNA World Heavyweight Championship four times, wrestled in the main event of TNA Bound for Glory pay-per-view in 2006, 2007, 2008, and 2009, and was inducted into the TNA Hall of Fame in 2012. Between WCW and TNA, Sting has held 21 total championships. Previously described by WWE as the greatest wrestler never to have performed for that promotion, Sting began a working relationship with WWE in early 2014, making his first live appearance at Survivor Series on November 23, 2014.
Readers of Pro Wrestling Illustrated have named Sting "Most Popular Wrestler of the Year" on four occasions, a record he shares with John Cena. He has cultivated a legacy as one of the greatest pro wrestlers of all time.
Ad blocker interference detected!
Wikia is a free-to-use site that makes money from advertising. We have a modified experience for viewers using ad blockers

Wikia is not accessible if you've made further modifications. Remove the custom ad blocker rule(s) and the page will load as expected.